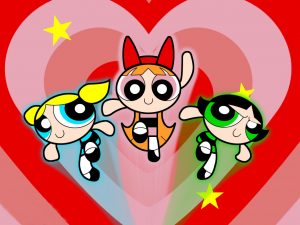 Al via le riprese della serie Powerpuff, progetto live action basato sulla serie televisiva animata Le Superchicche.
Le prime foto dal set sono arrivate online sul sito TMZ e hanno già fatto molto parlare di sé tra i fan dei personaggi originali (non reazioni sui social non sempre lusinghiere). Negli scatti trapelati possiamo ammirare le tre protagoniste mentre indossano i loro costumi e sono in azione all'aperto. QUI LE FOTO APPENA DIFFUSE
La celebre serie animata che ha debuttato su Cartoon Network nel 1998 sbarcherà ora, in versione in carne ed ossa, sul network americano The CW. Alla sceneggiatura c'è la penna affilata di Diablo Cody, già autrice degli script di Juno, Young Adult e Tully (nonché del prossimo biopic che Madonna dirigerà sulla sua vita). Ed ora anche le tre protagoniste Lolly, Dolly e Molly (in originale Blossom, Bubbles e Buttercup) hanno un volto reale.
Sono le già citate Chloe Bennet, già in Marvel's Agents of S.H.I.E.L.D. nel ruolo di Daisy "Skye" Johnson/Quake, che ne Le Superchicche interpreterà Lolly, Dove Cameron nei panni di Dolly e Yana Perrault in quelli di Molly.
Nella nuova versione live-action, le tre sono cresciute: la sinossi le descrive come "ventenni disilluse e infastidite dall'aver perso la loro infanzia a causa della lotta al crimine. Accetteranno di riunirsi ora che il mondo ha bisogno di loro più che mai?". A quanto pare, pare proprio di sì.
I personaggi, ovviamente, riprendono le caratteristiche del cartoon. Nella descrizione ufficiale, Lolly "era una bambina coraggiosa, coscienziosa, una 'piccola signorina perfettina' che ha conseguito diverse lauree", ma da adulta il suo "trauma represso da ragazzina-supereroe l'ha fatta diventare ansiosa e solitaria: mira a diventare di nuovo una leader, questa volta alle sue condizioni".
Dolly invece, pare perdere almeno un po' la sua "indole da ragazza dolce ha conquistato i cuori dell'America da bambina". Il personaggio interpretato da Cameron "brilla ancora da adulta, ma il suo aspetto affascinante nasconde una durezza e un'arguzia inaspettate. Inizialmente è più interessata a riconquistare la sua fama che a salvare il mondo, ma potrebbe sorprendere noi e se stessa".
Molly, infine, era "la ribelle tosta delle Superchicche nel suo periodo di massimo splendore. Più sensibile di quanto il suo aspetto duro suggerisca, Molly è diventata adulta cercando di liberarsi della sua identità di Superchicca e vivere una vita anonima".
Il pilot della serie annunciata lo scorso agosto sarà diretto dalla regista Maggie Kiley e prodotto da Greg Berlanti, Sarah Schechter e David Madden.
L'articolo Le Superchicche: le eroine entrano in azione con i loro costumi sul set del live action [FOTO] proviene da Best Movie.
Read More
Best Movie