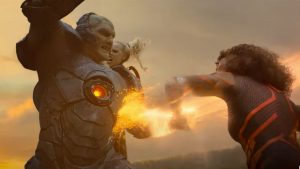 Manca un mese esatto prima dell'uscita di Jupiter's Legacy, la nuova serie Netflix basata sui fumetti di Mark Millar e Frank Quitely. L'attesa per i fan cresce a dismisura, ora che è stato pubblicato il trailer ufficiale. POTETE VEDERLO IN FONDO ALL'ARTICOLO (ANCHE IN ITALIANO).
Le premesse per una nuova serie evento che ricalchi l'esempio di Umbrella Academy o The Boys ci sono tutte: supereroi, poteri e molto altro stanno per tornare disponibili negli 8 episodi di Jupiter's Legacy. È basata sull'albo a fumetti pubblicato dal 2013, scritto da Mark Millar – già autore di Kick-Ass e Kingsman ma anche di molte storie Marvel come Civil War e Logan – e disegnato da Frank Quitely. Ora, ne è stato fatto un adattamento televisivo per Netflix, con protagonisti Josh Duhamel, Ben Daniels, Leslie Bibb, Elena Kampouris, Andrew Horton, Mike Wade e Matt Lanter. Inoltre, è creata da Steven S. DeKnight, già regista/sceneggiatore/produttore di altri lavori come Buffy, Angel, SmallVille, Spartacus e la recente Daredevil, oltre che regista di Pacific Rim: Uprising.
Jupiter's Legacy è, di fatto, un superhero drama: la storia parte da quando, negli anni '30, un gruppo di persone acquisisce fenomenali poteri che gli permettono di proteggere l'umanità a più riprese per 90 anni. A guidare il gruppo noto come The Union è Sheldon Sampson/The Utopian, assieme alla moglie Grace/Lady Liberty e il fratello Walter/BrainWave. Le vicende si spostano poi nel presente, quando la prima generazione deve vedersela con le tensioni crescenti coi figli, desiderosi di dimostrare il loro valore e di essere all'altezza della leggendaria reputazione dei genitori. Tra i protagonisti principali ci sono i figli di Sheldon e Grace, ovvero Chloe e Brandon.
Dalle prime immagini in anteprima, ha fatto la sua comparsa uno dei cattivi della serie, presente anche nelle scene più spettacolari del trailer, Blackstar. Per vedere all'opera il gruppo di supereroi e immergersi nelle intricate dinamiche tra genitori e figli dotati di poteri, bisogna aspettare il 7 maggio 2021.
Foto: Netflix
L'articolo Jupiter's Legacy, supereroi e tanta azione nel trailer della nuova serie Netflix proviene da Best Movie.
Read More
Best Movie