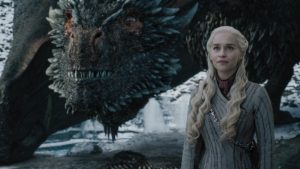 HBO sembra quasi volerci far credere di aver dimenticato la visione dell'ottava stagione de Il trono di spade! È stato infatti appena rilasciato un nuovo trailer per l'ultima stagione di Game of Thrones, quasi due anni dopo la conclusione della serie.
Il trailer, che presenta al suo interno degli spoiler ormai già svelati, ha lasciato perplessi alcuni fan, ma molti sono convinti che sia già allineato con l'imminente The Iron Anniversary, che celebrerà il debutto dell'episodio pilota del fortunatissimo e apprezzato serial fantasy avvenuto ormai 10 anni fa, l'11 aprile 2011. 
Questo trailer non sarebbe mai stato pubblicato prima che la stagione 8 andasse effettivamente in onda, visto che fornisce troppi dettagli su svolte della trama, tra cui Daenerys Targaryen (Emilia Clarke) che cancella Approdo del Re e Fortezza Rossa. Viene anche accennata la grande tensione tra Jon Snow (Kit Harrington) e Daenerys, mentre sono presenti in questo trailer anche dei nuovi scorci della battaglia di Grande Inverno ne La lunga notte, terzo episodio dell'ottava stagione.
Nei commenti Youtube del video in tanti stanno scherzando sul ritardo de contenuto e sulla storia di GOT che avrebbero voluto vedere, dato che l'ottava stagione di Game of Thrones, come i più ricorderanno, ha deluso molti spettatori e fan. 
«Non vedo l'ora di vedere quanto sia importante il lignaggio di Jon, come sconfiggono il Re della Notte, come Jamie si riscatta e qual è stato il grande piano di Varys per tutto questo tempo», ha osservato un commentatore particolarmente ironico.
Potete ammirare il trailer di seguito e, naturalmente, fateci sapere cosa ne pensate!
Fonte: Collider
Foto: HBO (via MovieStillsDB)
Leggi anche: Game of Thrones, in arrivo tre nuovissimi spin-off oltre House of the Dragon: ecco cosa racconteranno
L'articolo Game of Thrones: HBO vuole farci dimenticare di aver visto l'ottava stagione. Ecco come [VIDEO] proviene da Best Movie.
Read More
Best Movie